Hold on to your airbrush gun, because NAD AIRBRUSH DESIGNS is offering classes. Yes.. NAD wants to give you the power to create beautiful and exciting airbrush designs.
Learn how to work Transparent and Opaque paints, masking Edge-Spraying and many other techniques and effects that can be achieved with the airbrush.
All you need is a clear mind and the desire to learn.
Please leave your blow-thru stencils at home! The training you will receive will be in the Blending Area. For example, you will learn the importance of Color Exchange; what colors to spray and when and how to mix them. You will also learn how to use an edge spraying stencil, as well as developing color-blocking techiniques. It is important that you learn and practice these techniques and designs so you can triumph over your competition. You will keep your clients happy with new and fascinating designs. This is your opportunity to be a part of THE NAD REVOLUTIONS!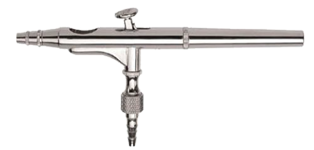 NAD's has Airbrush Equipment that ranges from the Quickie Compressor and The Sniper to the Power Shot Compressor and The Big Shot. If you only need it for a hobby or the carry a heavy daily work load, the NAD airbrush line is right for you. Paired with The NAD Paint and NAD Glossary you'll be a NAD Paintster Pro in no time!
High Quality Water-Based Acrylic Airbrush Paint. Choose from Dark, Light, and Pure Tones as well as Transparent and Opaque.
This technology teaches you how to blend two or more colors on the nail, overlapping the colors causing a color exchange.
From simple blending, you will learn Vertical and Diagonal blendings. Color Exchanges and how to work with paints such as Transparents, Opaques and Pearls.
You can also create the "NAD" splash at the tip of the nail. This will also allow you to become familiar with holding the airbrush gun at different angles.
This technical Glossary 1 is for the beginner, advanced and highly advanced nail technician. The information inside these videos will help you get started in the wonderful world of Airbrush Design.